HOW WILL THE SKIN BENEFIT FROM USING REAL CAVIAR EXTRACT ?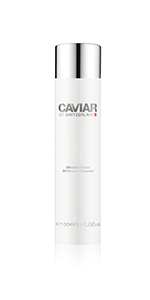 The mixture of elite ingredients in the CAVIAR of Switzerland🇨🇭 Skin Care products provide cell regenerative virtues and delay skin aging, while stimulating the production of Collagen, thereby improving elasticity and restoring the youthful glow back to your Skin.
The CAVIAR extracts that are present in the lightweight, silky 24h Regenerating Cream prevents dryness by supplying strong moisturizing  and vitamin nourishment, while normalizing the natural moisture production, in addition to skin firming properties. It actively diminishes all types of wrinkles, fades age spots, retextures the skin, giving a silky smooth surface and also has protective qualities, all of which help to reverse the aging process.
The chosen ingredients include some of the best antioxidants and film forming agents which protect the skin from environmental aging and pollution, including sun radiation damage, keeping the Skin's appearance healthy and youthful.