HOW WILL THE SKIN BENEFIT FROM USING REAL CAVIAR EXTRACT ?
The combination of elite ingredients in the CAVIAR of Switzerland🇨🇭 Skin Care products provides cell regenerative virtues and delay of skin aging, while stimulating the production of Collagen, thereby improving elasticity and restoring the youthful glow back to your Skin. Infuse your Skin with the Luxury of  Swiss CAVIAR and Rejuvenate with essential nutrients for an unparalleled radiance.      Use with your favourite facial tools
Skin with the Luxery of
The CAVIAR extracts that are present in the lightweight, silky
24H REGENERATION CREAM
is designed to turn back the hands of time and
provide the skin with a more vibrant and youthful
glow.
Fight the signs of aging with this intensive
moisturizing cream containing the potent ingredient
complex in combination with Vitamin E, Provitamin
B5, Shea Butter, Caviar, the elixir of youth, helps to
bind internal moisture, thus preventing dehydration
and dryness. The powerful complex also offers protection against environmental aggression.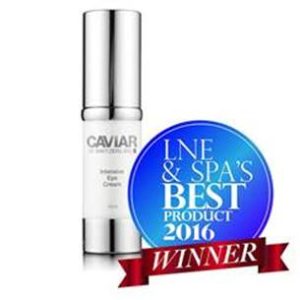 REVITALIZING EYE CREAM
With precious CAVIAR Extract, Collagen Synthesis – Stimulating Peptide, Hyaluronic Acid, Superoxide Dismutase
• Helps to increase collagen density to minimize
the appearance of wrinkles
• Helps to improve skin firmness and to diminish dark circles
Fight the signs of aging with this luxurious treatment
that is designed for the delicate skin around the
eyes
The chosen ingredients include some of the best antioxidants and film forming agents which protect the skin from environmental aging and pollution, including sun radiation damage, keeping the Skin's appearance healthy and youthful.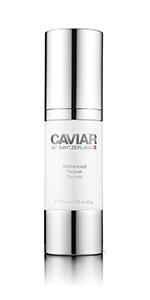 ADVANCED REPAIR SERUM
This concentrated serum is designed to go right to
the heart of the skin-aging problem by intervening at
the cellular level, where skin needs support.
The powerful complex of ingredients helps to heal
damaged skin by stimulating collagen production
and new tissue growth.
Potent anti-oxidant agents combat persistent silent
micro-stress, triggered by external factors such as
sun exposure, stress, lack of sleep and environmental
pollution, the primary causes of premature aging.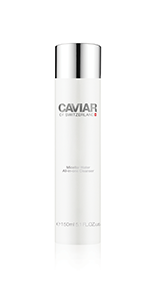 MICELLAR WATER ALL -IN -ONE
This powerful one-step cleansing product is a
cleanser, a make-up remover and a toner all in one.
With precious Caviar Extract, multi-functional
Tamarind Seed Extract, a Skin Barrier Optimizer and
Aloe Vera
• This gentle all-in-one cleansing lotion contains
tiny particles or 'micelles' of oil. These invisible
droplets trap dirt and make-up, leaving the skin
thoroughly cleansed and refreshed in one easy step
• It helps protect the skin against water loss,
activates the natural protective mechanisms of
the skin, makes the surface of the skin appear
soft and supple, improves the skin elasticity and
the appearance of wrinkles.
Micellar Water is a skincare product that removes
make-up and cleanses the skin, without the need for
rinsing. It is powerful enough to remove eye makeup,
but uses very gentle yet effective cleansing
agents, and thus making it a product suitable for all
skin types – the perfect start  before applying the Caviar of Switzerland products.