APISERUM
the line of skin care preparations that are rich in the unique substance that is only created by the bees ;

Royale Jelly

.

The incomparable qualities of this organic complex contains 22 life supporting amino acids, trace elements, carbohydrates, and enzymes. A complete balanced nourishment for the skin. Ideally suited for delicate skins. A true gift from nature, ahead of it's time.
The first analysis of
" Royale Jelly "
and preparations of the
APISERUM
Line of products for human use was developed by the french biologist " De Belvefer " in 1951 and its success set a trend for other company's to eventually
follow.
More than just Cosmetic
A European secret of youth and vitality for more than 50 years.

APISERUM
line of skin care products, in the sense of biological cosmetics, are for Holistic Beauty Care.
This biologically effective beauty product line, made from the active substance produced by the bees, Royale Jelly, in it's purest form, acts as a repair substance for the skin cells. Helping to protect the skin from environmental influences, such as " free radical " damage , which denatures the skin' natural collagen and elastin, a major cause of wrinkles, and can also lead to discoloration, brittle and devitalized skin.
APISERUM 
treatment line: available for the professional clinic, and home care use, can be used on all skin types, mature, dehydrateted, sensitive, dilated capilliaries, impure and problem skins, to all achieve a prefect balance.
APISERUM DRINKING AMPOULES  "For Beauty From Within"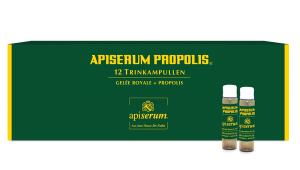 More about PROPOLIS