BIOSBEE Dr. Nobis;
is the trade mark of these treatment care products with active bee substances that have been created with the highest requirements in natural cosmetics.
BIOSBEE
products, also known as the
"Golden Line"
is an innovative anti-aging skin care line, for dry, de-vitalized atrophic skin's and those that are generally out of balance, as well as Mature Skin.
The incomparable qualities of the organic complexes combine all of natures power and contain all of the active ingredients that the Bees produce from them:   Royal Jelly, Biologically Sealed Flower Pollen, Propolis, Beeswax, and Honey, which optimally regenerate the skin, and the physiological balance of the tissue is once again re-established.
 BIOSBEE  is a natural scientifically developed Skin Care line, with a  biologically active formula. The discreet perfume is based on natural essential oils that further enhances this unique select skin care range
A TRULY UNIQUE LINE OF SKIN CARE :
A  FULL RANGE  OF PROFESSIONAL  & HOME CARE  PRODUCTS :
For more information about elements from the BEE see..PROPOLIS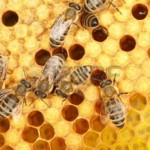 .