Come out of the Shadows and be Beautiful at every Age
The Technologically Advanced Anti-aging Cosmeceuticals of the Laboratoire du Peptide™
This series contains safe bio-metric peptides identical in effect to the natural peptides produced in the body.
The level of natural peptides in our skin declines with age and their proper synthesis can deteriorate,
therefore metabolic and repair processes controlled by peptides tend to weaken, or might be disrupted.
Consequently, this leads to age-related changes associated with visible signs of aging.
The Series of products;
Laboratoire du Peptide ™
Wrinkles around the Eyes are minimized & less Visible
All types of wrinkles &  face discolorations become reduced &  less visible
Increased production of Collagen
Leaves Facial Skin Firm, Elastic & Taut
Wrinkles are visibly smoothed out
Facial Skin becomes Cleansed, Moisturized Fresh & Soft to the touch
FACE SERUM w/ "botox- like" peptides
Minimizes the visibility o the "crows feet"  & fine lines
Prevents formation of new wrinkles
Whitening peptides reduce discoloration & age spots
Signal peptides increases skin Collagen
Face is firmer & with more elasticity
Hyaluronic acid prevents trans-dermal water loss
Sweet Almond & Avodaco oils nourish & regenerate the skin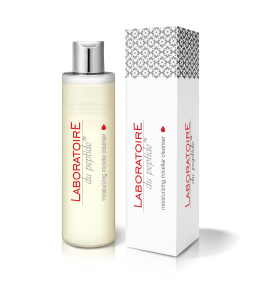 CLEANSER  Moisturizing & Refreshing
Hyaluronic acid reduces water loss & improves elasticity
Cucumber  extract nourishes & refeshes
Urea a component of NMF (Natural moisturizing Factor)
Preserves skin's proper firmness & elasticity
Allantoin acts to protect skin's barrier against extreme dryness
Makes skin smooth & well nourished
Moisturizing Micellar Ulotka_skladana_2018_2 Cleanser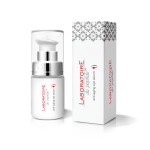 EYE SERUM  w/anti-wrinkle neuro-peptides
Neuro-peptides slow down minic-muscle nerve transmission.
Mimic-muscle wrinkles become less visible
Vitamin A (retinol) stimulates renewal of skin cells
Enhances synthesis of Collagen & Elastin
Vitamin B3 (niacinamide) smoothes out wrinkles, improves texture & colour of skin
Vitamin E a powerful anti-oxidant, protects against Free Radical damage
NIGHT CREAM w/Collagen Boost peptides
Signal Peptides increase Collagen synthisis
Protect Collagen  degradation &improve skin firmness & Elasticity
"Botox-like"peptides reduce the visibility of fine lines & wrinkles
Prevent formation of new wrinkles
Hyalurinic acid protects against water loss, skin is visibly smoother&  mosturized
Vitamin E powerful anti-oxidant protects skin Collagen from damage & improves skin tension