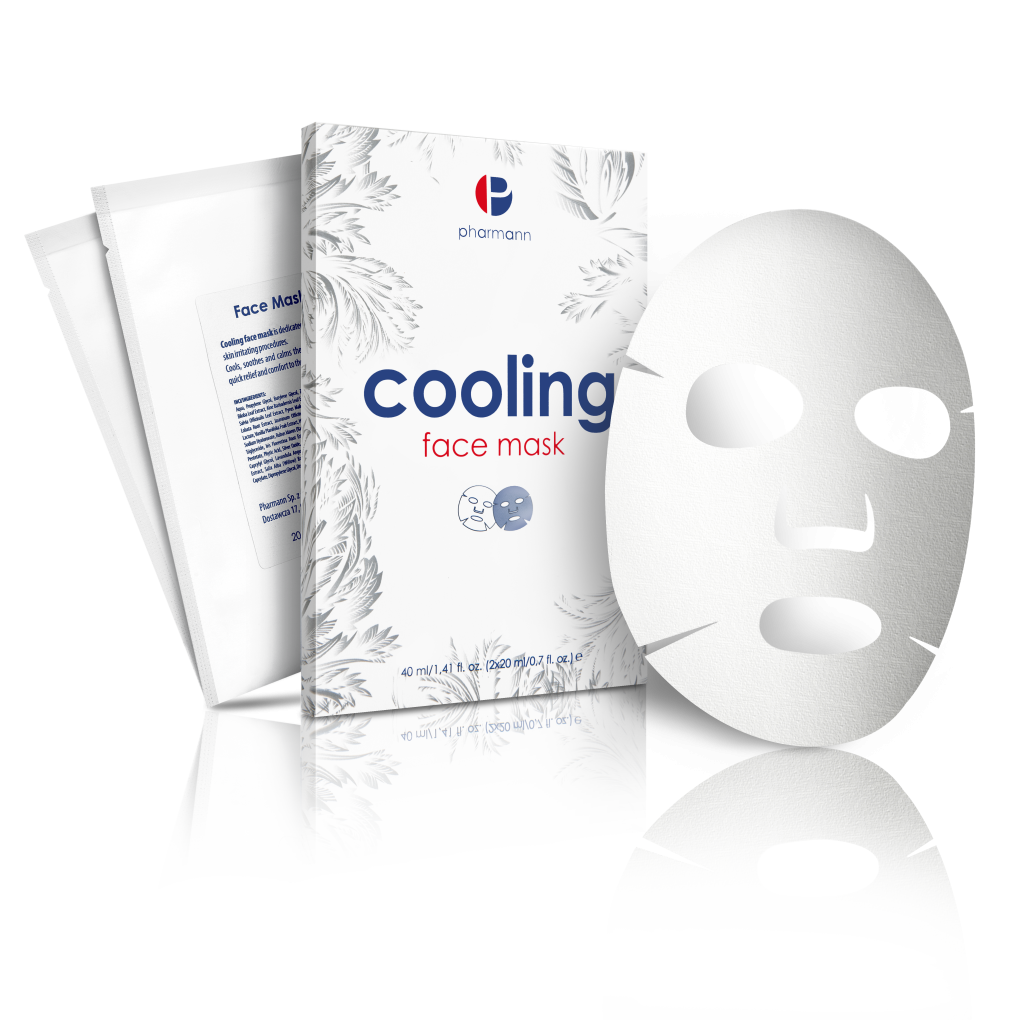 What is the COOLING Face Mask
Pharmann 

COOLING Face MASK 

is an Anti-aging, Ultra-moisturizing  Treatment that Revitalizes the skin's cellular structure and vitality.
COOLING Face MASK

is made from the ultimate generation of bio-synthesized fiber, a thin fabric that forms to the Face like a second  skin.
 MAIN CHARACTERISTICS:
DEDICATED TO:
For use after Dermatological, or Cosmetic procedures, in order to accelerate the skin's regeneration, especially to irritated skin & to minimize discomfort after more invasive procedures, such as; Micro-needling, Laser therapy, Micro-dermabrasion, Meso-therapy, Chemical peels etc
Prevents inflammation process; possesses cooling properties for quick calming relief.
Brings immediate relief; cools, reduces swelling, burning, itching & redness
Retains water thereby improving the lipid barrier
COMPOSED OF:
The Mask is composed of many active plant extracts known for their anti -inflammatory, soothing, anti-oxidant & anti-aging properties,       i.e: Gingko Biloba, Aloe Barbadensis, Pyrus Malus (apple fruit), Hyaluronic Acid, Rubis Idaeus (Raspberry fruit), Silver Oxide, Lavender, Salix Alba (Willow bark), Retinyl Palmitate, to name a few
REGENERATING & ANTI-OXIDANT COMPLEX:
Protects the Skin against Free Radical Damage, improves the skin's elasticity, tone, &  firmness.
MOISTURIZING COMPLEX:
Improves the lipid barrier of the skin, moisturizes, hydrates & nourishes the skin
HELP  YOUR  SKIN  TO  FEEL  RELIEVED
READ MORE…………..Pharmann DermocosmeticS